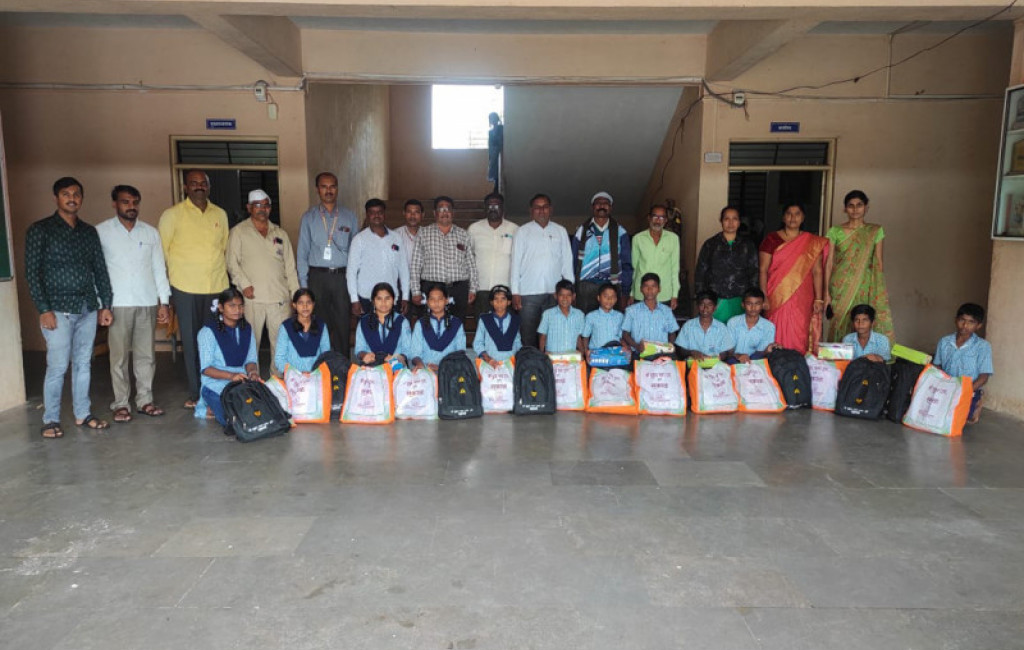 Educational kit distributed to 320 needy school students by Sakal Social Foundation, Lohia Pratishthan and K&Q family
'Social for Action' had undertaken an educational kit distribution activity for the needy, economically weak and talented school children in Pune district. An appeal for help was also made to charitable individuals and organisations in society.
For this activity, 'Sakal' representatives selected 320 students from 50 schools and a few hostels run by voluntary organisations from 15 talukas of Pune district. The selection criteria were as follows – students from a rural background, students with single parent, students from low income group and so on. Shree Mukund Bhavan Trust and K &Q Family from Pune responded to the appeal made by 'Social for Action' and provided Rs 10 lakh 50 thousand for the educational kit distribution project.
All of a 'kind'
When an event was held at Sakal office in Pune, the 320 students present there, were visibly overjoyed with what they had received – a kit containing a school bag, notebooks, a compass box, water bottle, tiffin box, shoes and socks, a raincoat, sweater, sports shoes, sports uniform (T-shirt and half pant), a mat and a bedsheet.
Sakal Social Foundation, Lohia Pratishthan and other associated Trusts, and K &Q Family had collaborated to distribute the educational kits to these students.
The event was attended by Aditya Lohia and Sharad Sarda, Trustees, Lohia Pratishthan, Manoj Muchhal of K & Q Family, Mahendra Pisal, Trustee, Sakal Social Foundation and a large number of teachers, parents and students.
On this occasion, Mahendra Pisal explained the various social and educational activities conducted by Sakal Social Foundation and Sakal Relief Fund. In his address, Sharad Sarda said that Sakal has been organising various constructive social activities for which Lohia Pratishthan has been extending its cooperation and it will continue to do so in the future too. He also said that charitable individuals and organisations need to come forward to support such activities.